Passive income ideas in Pakistan? Yes, in recent years, passive income has gained popularity globally, including in Pakistan. With the advancement in information technology and changes in the business landscape, more opportunities are now available than ever to generate multiple streams of passive income.
It's worth exploring what passive income ideas in Pakistan will be popular in 2023 and how to take advantage of these opportunities to build wealth.
In this article, you will find a complete list of passive income ideas in Pakistan. We will discuss some of Pakistan's most popular passive income ideas for 2023 and beyond.
What are Passive Income Ideas?
"If you don't find a way to make money while you sleep, you will work until you die" – Warren Buffet.
Passive income ideas are simple ways to help you earn money without actively working for it. In other words, it is money you earn without trading your time or labour for it. To make an active income, you have to work regularly. Some well-known examples of passive income ideas are rental income, dividend income from stocks, royalties from creative works, affiliate marketing, investment in Gold, and more.
Passive income ideas can be a great way to boost your existing income or even replace it entirely. However, finding a passive income stream well-suited to your skills, interests, and financial goals would be best. While some passive income ideas require an upfront investment, others can be started with little or even no investment.
Overall, passive income ideas offer greater financial flexibility, allowing you to earn money on your terms and achieve financial freedom and security in the long run. However, it's essential to know that every passive income requires some level of sacrifice at the initial stage in the form of investments or efforts.
What is The Difference Between Active Income and Passive Income?
Active and passive income differ based on the investment or effort required to earn them. Active income requires ongoing effort and time investment, while passive income allows you to make money without working.
While both types of income have advantages and disadvantages, generating passive income can offer you greater financial freedom and security in the long run. Here is the main difference between active income and passive income.
Active Income
Requires active work or labour in exchange for payment
Some examples are salaries, wages, tips, commissions, and bonuses
Active income stops when you stop working
Your payment is linked to time spent working
Active income is subject to taxes and deductions
Active income needs continuous effort over the long term.
Passive Income
Earned with little or even no work
Examples are rental income, stock dividends, Interest earned, Bonds, and affiliate marketing.
Passive income continues even when you stop working.
Your payment is not linked to time spent working
Some passive income is tax-exempt.
You can earn a passive income for a long time with minimal effort.
Complete List of Passive Income Ideas in Pakistan
Money-Making Apps (Online)
Drop-shipping business model
Set up Print-on-Demand Store (Online)
Sell Your Digital Products Online.
Online Teaching Courses
Start Your Blog
Rent Your Properties (Car, House)
Do an Affiliate Marketing
Write an e-Book and Sell
Sell Your Stock Photos
Become a Social Media Influencer
Licensing Music Business
Create Your Mobile App
 Start a YouTube Channel
Start a Small Business (Automate)
 Invest in the Stock Market
Fixed-term deposits
 Interest in Savings Accounts
 Invest in National Savings Certificates
Invest in Mutual Funds
Invest in Dividend Stocks
Purchase Government Bonds
Invest in Gold
Start Forex Trading
Start Franchising
Cryptocurrency Trading
Freelancing (Outsource)
Be a Silent Business Partner
Property agency
Start Peer-to-Peer Lending
Most Popular Passive Income Ideas in Pakistan for 2023
Like many other countries, Pakistan has recently seen a growing interest in passive income. The Internet has made it easy to access information, so people in Pakistan are exploring various ways to earn passive income from home.
In 2023, specific passive income ideas are expected to be more prevalent in Pakistan, leading people to achieve their financial goals and freedom.
Here, we will explore some of Pakistan's most popular passive income ideas for 2023, whether you are a student, a professional, a small businessman, or someone looking to add to your current income. The following passive income ideas offer a great way to generate passive income.
Here, we have covered a range of passive income ideas that are well-suited to the Pakistani marketplace. So, let's dive in and explore Pakistan's passive income world in 2023.
Affiliate Marketing (high-income-generating option)
What is Affiliate Marketing?
Affiliate marketing is online marketing where businesses reward their affiliates for promoting their products or services. It is a performance-based marketing strategy. The fellow is given a unique link to promote the product or service online. When someone clicks on the provided link to make a purchase, the affiliate earns a commission from the sale.
There are different types of affiliate marketing, including pay-per-click, pay-per-sale, pay-per-lead, and multi-level marketing.
How to Start Affiliate Marketing?
Affiliate marketing is a popular and great way to earn passive income online. In Pakistan, you can do affiliate marketing like anyone else in other countries. This is a passive income idea you can start right away. Here are the essential steps to becoming an affiliate:
Choose a Category: Select a category based on your interests and expertise that you want to focus on, like personal finance, fitness, health, fashion, or tech.
Search Affiliate Programs: Search and select affiliate programs that offer products or services related to your niche. Some well-known affiliate programs are Amazon Associates, ClickBank, and Commission Junction.
Create Your Affiliate Blog: You need a website or blog to promote your affiliate link. You can create a blog for free. If you have some budget, create a better, more professional website for your affiliate journey.
Content Creation: Create quality content for your blog or website to attract your audience. You can create content yourself or hire a freelancer for this task.
Promote Your Affiliate Products: Now, you can promote your affiliate product or service on your blog or website. Put the affiliate link in your articles or blog posts to refer the visitor to the company and earn a commission for the deal.
Monitor Your Results: It is essential to track your affiliate sales and commissions to see what's working for you and what's not.
Start A YouTube Channel
Starting a YouTube channel is trending now in Pakistan. Undoubtedly, it is a great way to generate passive income without making an investment from home. You can create your YouTube channel if you have some expertise in any domain or even if you have no skill.
However, it also requires your time and effort at the start. Once you build your audience, you can generate enough money from it.
Here is a step-by-step guide to starting your YouTube channel from scratch.
Creating a YouTube channel and publishing your videos will allow you to earn passive income with advertising as they gain views.
Choose Your Topic: First, decide on your topic.
Create Quality Content: Start creating quality content for your audience.
Optimize Your Videos and Channel: SEO (search engine optimization) is vital to boosting your channel. Take time and do proper SEO for your videos and channel. You can get help from YouTube for SEO.
Promote Your Channel on Social Media: Promote your channel on all social media platforms, like Facebook, LinkedIn, Pinterest, Quora, Reddit, Twitter, and Quora.
Apply For Monetization: Once you have done all the above steps, it's time to apply for ad platforms to monetize your channel.
Engage Your Audience: It's essential to engage your audience. Respond to all comments, create a community, and host a Q&A session to engage your audience.
Start A Blog (Blogging)
Blogging is one of the best online passive income ideas to build wealth. According to Google search results, there are 1.9 Billion websites worldwide as I am writing this article. And out of this, 600 Million are blogs. Approximately 80% of internet users use blogs to get information.
Blogging is creating and publishing written content on a website or blog. It can be in articles or blog posts on various topics. The primary purpose of a blog is to build a community while providing valuable information to visitors. Blogging requires your time, effort, and patience. Once you establish a position in your niche, it will give you a regular passive income stream for a long time.
Steps to Start Your Blog From Scratch
Select a Topic: Select the topic in which you know or have expertise
Choose Domain Name: Choose a name that is simple, unique, and easy
Choose Hosting: Hosting means purchasing online space for your blog
Select a Platform: Select your blogging platform, i.e., WordPress, Wix, Blogging
Customize Your Blog: Design your blog and make it attractive
Start Creating Content: Create and publish unique and quality content
Do SEO: Do SEO on your blog to increase your visibility on search results
Promote Your Blog: Promote your blog on social media and other platforms
Monetize Your Blog: Monetize your blog through different ad platforms
Ways to Earn Money With Your Blog
You can earn a steady online income through different methods. Some popular ways to make money online from a blog are listed below.
Advertisements: You can earn through different ad platforms, like Google Ads and Esoic. They place third-party ads on your website and will pay you based on clicks or impressions.
Affiliate Marketing: As we have discussed above, affiliate marketing. You can earn money through affiliate links. You will get a commission when someone clicks on your website link and makes a deal.
Sell Digital Products: Another way to make money from your blog is by selling digital products. For example, you can sell an eBook, an online course, Photographs, etc.
Sponsored Posts: You can earn money by promoting a sponsored post or guest blog. This involves promoting and getting paid for third-party products or services through a sponsored post.
Cryptocurrency Trading
Cryptocurrency investing has recently become one of Pakistan's most popular online passive income sources for building wealth. Although, officially, it is not allowed in Pakistan. But still, you can invest in cryptocurrency through online platforms. It has great potential and offers you a lucrative income source.
You might be thinking, what is cryptocurrency? It is a digital currency that has no physical existence. It is based on a decentralized network of computers connected through the Internet globally, known as the blockchain.
The cryptocurrency market is highly volatile and risky. Before investing, you should understand the basics. You can buy and sell this digital currency on crypto exchanges like Binance, OKX, HotBit, KuCoin, and more.
Steps to Start Cryptocurrency Investing
Learn Cryptocurrency: Before investing in cryptocurrency, learn the basic algorithm of the crypto marketplace and be aware of its risk.
Choose a Cryptocurrency Exchange: After knowing about cryptocurrency and how it works, select a cryptocurrency exchange that fits your requirements.
Create an Account: Make an account on your selected exchange with these simple steps, and verify your account with the given instructions.
Deposit Funds in Your Account: You can fund your account through a credit card or third-party peer-to-peer purchasing (P2P).
Start Investing: When you fund your account, you can purchase and sell cryptocurrency with one click.
Online Money-Making Apps
Online money-making apps are significantly trending in Pakistan in 2023. Although, it is not recommended. However, many people use these online apps to make money.
You can ask what money-making apps are. These simple applications allow users to earn money by completing various tasks or activities on their smartphones. Some of the most famous examples of money-making apps are Dosh, Ibotta, Acorns, Swagbucks, B4U, B-Love, UK Ads, Fornax, Jawa Eye, Healthy Wage, Instacart, and many more.
There are different types of money-making apps. Some pay for completing a task or survey, while others offer investing opportunities.
How can You Start With Money-Making Apps?
It is important to do deep research on money-making apps before investing. Some of them may need to be legit. There is a high risk; you may lose your money. You should know its potential risks and only invest what you can afford to lose.
Below are the simple steps to operating any online money-making app.
First of all, research and select legitimate apps
Create an account and follow the instructions
Explore the opportunities with the app
Complete tasks or activities, or you can invest
Eran your reward or interest in staking
Greed is a curse; withdraw your earnings daily or weekly.
Dropshipping Business Model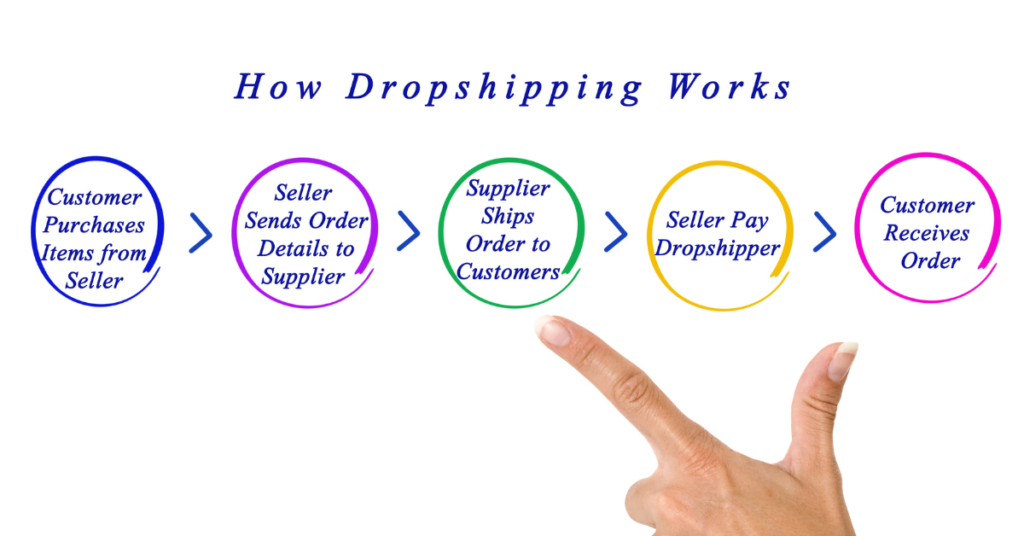 Dropshipping is another great passive income idea that requires little money. It is a business model where a retailer (drop shipper) does not need to keep physical product inventory to sell. The retailer makes a natural connection with the supplier or manufacturer, who ships the products directly to the ordering customer on his behalf. The retailer keeps his commission or profit and pays the supplier wholesale.
Dropshipping is the latest and most unique business model, offering the best passive income idea to build wealth in Pakistan. Dropshipping is essential because it allows you to sell products without investing in inventory. And not only that, you don't need to handle the shipment or return case. The supplier or manufacturer takes care of all this.
How to Start a Dropshipping Business In Pakistan.
However, starting a dropshipping business in Pakistan requires proper research, planning, effort, and a little investment. Here are the steps that you can follow to start a dropshipping business in Pakistan.
Select Your Product: The first step is to select a demanding product for a dropshipping business.
Research Your Supplier: After selecting the product, the next step is to research and choose the supplier for your product. You can search for suppliers on Alibaba or other online marketplaces.
Set up Your Store Online: Many online platforms offer special services to create an online store for dropshipping, like Shopify and WooCommerce.
List Your Products in Store: The next step is to list products in your online store. You can get images and descriptions from the supplier.
Promote Your Store: Once ready, you must promote it through social media and email marketing to attract more customers.
Start Selling: When a customer places an order in your store, forward it to the supplier with the customer's shipping information. The supplier will ship the product to the customer, and that's it.
Print-on-Demand Business (POD)
Print-on-demand (POD) business is an online business model you can start immediately. This is the passive income idea without investment. However, like other online passive income ideas in Pakistan, it also requires your time and effort to build wealth in the long run.
In this business model, products are created and printed only when the customer places an order. That's why it is called a print-on-demand business.
This business model is commonly used for t-shirts, mugs, phone cases, and posters. Several platforms offer print-on-demand services, such as Redbubble and Teespring.
Here are some steps to getting started with a print-on-demand online store.
Choose Your Niche: First, select a niche for your online POD store.
Search and Select The POD Platform: Research and select the best print-on-demand platform.
Create Your Designs: Create unique designs for your product. You can use Canva, Photoshop, or Adobe to create your designs.
Create Your POD Store: You can use Shopify or WooCommerce to create your online e-commerce store.
Start Listing Your Products: List your products on your online store and upload your designs to your print-on-demand platform.
Promote Your Store: To generate more leads, you need to promote your store through social media and email marketing, or you can run a paid advertisement.
Fulfill the Orders: When you get an order from a customer, the POD platform will handle it, and you will earn your commission on the sale.
Investment in Gold
Yes, investing in gold is considered a very safe and secure investment. If you are risk-averse, then consider investing in gold. It's a store of value and a hedge against inflation. Gold investment is one of Pakistan's popular passive income ideas for 2023. In comparison, some passive income ideas are risky due to political uncertainty and natural disasters like floods and earthquakes.
This investment only needs your patience. You have to wait for a long time to earn a profit. Indeed, its price will rise over time. Then you can sell this and make a profit.
You can buy or sell gold in Pakistan with ease. Go to a reputable, reliable goldsmith (dealer) and buy or sell your gold. However, consulting a dedicated financial advisor before making investment decisions is better.
However, like every investment, investing in gold also carries some degree of risk. But relatively, it is less risky. Gold has high demand in the Pakistani market because of its use on various occasions, like weddings and festivals.
Rent Your Property (House, Car)
Renting out your property is the best way to generate regular passive income in Pakistan. With a growing population and economy, rental properties are in high demand in many cities nationwide.
Suppose you own property. It may be your house, apartment, flat, car, or anything else. You can rent it out quickly. Doing so will give you a regular income stream without working for it for a long time.
In Pakistan, renting out a property is a top-rated passive source of income. If you have a property, rent it out and make money while you sleep. Your property will put cash in your pocket at the end of every month.
However, as a property owner, you have to choose your tenant wisely, address issues that arise, and maintain your property regularly to get long-term benefits. With proper planning and management, renting out your property can be a lucrative passive source of regular income in Pakistan.
Frequently Asked Questions
You can find several ways to make passive income in 2023. Here is a list of the top 10 passive income sources you can choose from.

YouTube Channel
Blogging
Affiliate Marketing
Online Teaching
Creating an App
Prin-on-demand Store
Rent a Property
Dropshipping
Selling Digital Products
Influencer Marketing
With the ease of technology, it will be easier to get rich in 2023. However, getting rich is not an overnight game. It takes time and effort. You can get rich quickly if you use technology in the right way. Here are some tips to help you get rich quickly in 2023:

First, gain financial knowledge.
Start investing as soon as possible.
Start a small business with a unique idea.
Do affiliate marketing
Running a YouTube channel
Start blogging
Start a digital marketing agency
Yes, you can be rich in Pakistan without investing. Here are the ways you can start making money without investing in Pakistan.

Freelancing
Affiliate marketing
YouTube channel
Online teaching
Digital Marketing
The most popular online passive income sources in Pakistan for 2023 and beyond are,

YouTube channel
Blogging
Affiliate Marketing
Dropshipping
Print-on-demand Stores
Gold investment
Rent a property
Digital Products
Here are some of the best passive income side hustle ideas for students.

Freelancing
Content writing
Digital Marketing
Affiliate marketing
YouTube channel